Chitral 'Chity' Somapala - The Asian Voice of Metal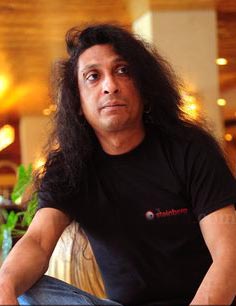 Chitral "Chity" Somapala was born into a famous musical family in Colombo, Sri Lanka on 4 November 1966. Both parents, P.L.A. and Chitra Somapala were renowned Sri Lankan Artists. They both contributed on the soundtrack of the film "Asoka". P.L.A. Somapala was working as a film music director and his Mother Chitra was a singer.
In 1998, he Produced the song "Nadee Ganga Tharanaye" in which the melody was based on "Many Rivers To Cross" by Jimmy Cliff for a TV and radio commercial for the Lion Brewery in Sri Lanka, a song that is very much in demand in the country to this day. The song is unique as it was a song sung with lyrics in the Sinhala language with a hard rock/metal with a bluesy touch.
Shortly thereafter he joined Avalon, a German melodic power/progressive band as the front-man and lead singer. In cooperation with others, Avalon was produced by Charlie Bauerfeind, the same who also produced acts such as Helloween, Gamma Ray, Blind Guardian, Saxon, etc. Avalon's third album, Vision Eden, received excellent reviews in the international press and the Vision Eden tour saw Avalon as a supporting act for bands like Hammerfall, Uriah Heep, Metallica, Motörhead, Royal Hunt, Pink Cream 69 and many others.
During the summer of 2000 he participated on Avalon's 4th album Eurasia under the hands of Sascha Paeth, who is known for his work with Rhapsody, Kamelot, Heaven's Gate, Angra and others. On Eurasia one will hear some of the Asian musical influences from his home country Sri Lanka.
Besides the vocal parts on Eurasia, Somapala can be heard playing the Chapman Stick. The release of Eurasia was followed by a European tour with Metalium. Avalon disbanded shortly thereafter.
In 2002 he contributed the "Greenland's Theme" for the Isipathana International Rugby Championships in Sri Lanka.
At the end of 2003 he was auditioned by the young Greek guitar virtuoso Gus G. to join Firewind for a January 2004 headlining tour of Japan. After the successful Japanese tour, Gus G. asked Somapala to join the band on a permanent basis and they started sharing ideas for the third Firewind album. The result of their collaboration, a new album Forged by Fire, entered the Japanese TOP 100 and received excellent reviews all over the world. After a tour with Hammerfall during their Ice Breaker Festivals, Somapala decided to leave the band in 2005.
In 2006 he founded his own band Civilization One, which then released the album Revolution Rising in 2007.
Having great success and an increasingly popular reputation, Somapala performed again in his home country, Sri Lanka, with Civilization One, making history as the first foreign metal act performing for several thousand amazing metal fans at the TNL On-stage show in Colombo.
In 2009 Chity travelled between Central Europe and performed with Civilization One and Rekuiem. A short time later Somapala was offered to perform a "Classic Rock" show with the Luxemburg Philharmonic Orchestra at "Rock um Knuedler". The Luxemburg Philharmonic Orchestra had performed with Scorpions, Patricia Kaas and a lot of other world famous artists. The performance was enthusiastically received.
In May 2010 Somapala joined the British power metal band Power Quest and recorded album Blood Alliance as a member of that act but later left the band on amicable terms to continue his solo career.
In 2011 saw him again in his country making the hit 'believing the dream" for the cricket world cup. In addition to this, he continually keeps himself busy writing and recording for the future in his studio, alongside he still performs with his long going Progressive Metal band Red Circuit (alongside producer/keyboardist Markus Teske). Red Circuit has released two critically acclaimed albums Trancestate in 2006 and Homeland in 2010.
Today he has become one of the most highly regarded vocalists, songwriter and composer in the music business and his tireless efforts continue